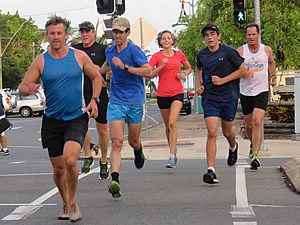 Mackay Road Runners continue to enjoy their running with the Club's very social off season training program designed and hosted by Mackay Road Runners Club Captain, Jim Ford. Jim's enjoyment was clear as he explained the very technical course to approximately forty runners as they listened as intently as they could despite being a Sunday afternoon…. and surprisingly enough, everyone got it right and no one got lost!
The rules of the run were that runners meandered through the Mackay City Centre streets however, there was to be no jay walking/running at the traffic lights as points would be deducted. To accrue points, runners had to run in groups, ie minimum of two and also count one point for each street they completed as they wound their way from the Bluewater Quay towards the furthest point ie Peel Street, near Canelands. The first couple/group to be back with the most points within the allotted time of between fifty-five and sixty minutes would be the winner and claim the coveted 'surprise' prize. As always, runners enjoyed Jim's course concept whereby he ensures is specifically suitable for a wide range of running abilities ie new and existing, slow to fast, so that all runners benefit from the sessions depending on their current abilities and stages of fitness. The idea also creates an opportunity to meet, chat and support your co-runner, which is a major contributor to the inclusive atmosphere that Mackay Road Runners strives to provide and appeal to all participants.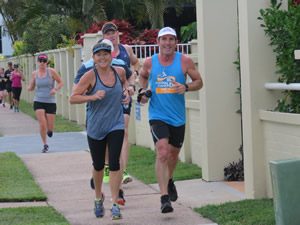 Mackay Road Runners welcome young German visitor, Kelly Bebendorf, who is in Australia visiting her Dad, Ross for twelve months prior to travelling south to Melbourne and Adelaide to further her study options. Talented Kelly was one of the fastest runners in the field as she easily accounted for the tricky ten kilometre track. Kelly has been enjoying running with the Club this year at a multitude of events including the formal Club program which ended early October, the Wednesday 5km social runs and the Sunday afternoon sessions. Her co-runners will be sorry to see her leave Mackay at the end of the year, but not as much as her Dad!
There was also some excellent and skilled running on display with Russell VandenBosch, Peter Ford & Stephen Oberg rivalling Shawn Claydon and Carl Pinkstone as possible team winners, however, final results were not to hand before the writer/photographer departed. Exceptional running also by Ashley Davies who was on hand to collect her Mackay Road Runners Age Category Club Championship bronze medal trophy. Erin Safe enjoyed a very relaxed low key run prior to heading to New Zealand to race in the Queenstown Marathon this weekend….best wishes to her, husband Kristian and several locals who will also be attending the same event. Excellent performances continued with Jo Skinner, Jenene McLellan, Lisa Davis, Leon Ryan, Simon Henderson, June Bradley, Robyn Madill, Alan Zamparutti, Mark Walz, Mark Pashalis, Tim Caddy, Alex Andersen, Marie Muscat, Jose Short, Karla Hook, Carmel Mahon, Carolyn Steginga, Leo Walz, Scott McIntosh, Simba Walz, Matt Graves and Emma Goodman-Jones.
Runners are now looking forward to next Sunday's social group training session at 5.30pm from Town Beach Esplanade, ie beach end of East Gordon Street. All new and existing runners are very welcome to attend, no need to be a Mackay Road Runners member.