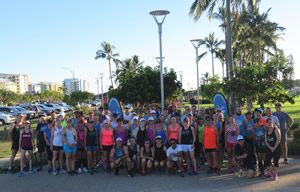 Mackay Road Runners Club had an exciting Sunday last week starting with the Mackay Regional Council's Sport Expo and Sign-On at the MECC from 9am to 1pm before hosting its first calendar run for 2018 at 5.30pm at the Old Mulherin Park, Mackay Harbour. With a very successful and busy morning at the Expo, Club President, Tim Magoffin was ecstatic with the response from interested persons at the expo followed up with over sixty runners at the social Lighthouse Warmup 5km at 5.30pm. Many thanks to the volunteers who assisted at the Expo as well as at the club event later that day.
The conditions in the beautiful Mackay Harbour Marina precincts, although very warm as predicted by the Weather Forecasters, were perfect for running. The 5km course which took runners onto the very scenic Breakwater, was a great start for the long and varied Club running season. Tim Magoffin welcomed the many new and existing runners before briefing them on the course description and thanking the off season social Summer Season Race Directors, Jim Ford, Alana Ford and Andrew Short. Runners enjoyed the flat course which also included some testing sections along the Breakwater's partially blocked road and rocky wall which blocked the much needed cooling sea breezes. However, despite the warm, humid weather, excellent performances came from all runners including Lauren Morgan, Judy Zahn, Carl Pinkstone, Ricky Parker, Bill Morgan, Jarrod Spence, Arthur Dick, Bernadine McKinnon, Sandy Marchetti, Kim Saron, Andrew Short, Alana Ford, Carolyn Steginga, Leon Ryan, Mark McFadzen, Andrew Wallace, Alan Zamparutti, Mark Walz, Andrew Kelly, Will Morgan, Simba Walz, Carol Brown, Brenda Windsor and Cilla Martland.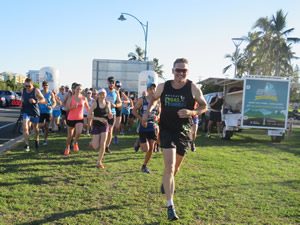 In international running, local Julian Picot excelled in Tokyo's Iwaki Sunshine Marathon, clocking an impressive personal best time of 2 hours 42 minutes. The conditions were marginally cooler in Japan than our 36 degrees, with Julian enduring a chilly 8 degrees throughout the 42km course. Congratulations to Julian on a fine performance, well done! Another club member to excel in his running was Calvin Franklin who has been competing in the Australian Junior Triathlon Series. With recent success in Adelaide and with another competition coming up in Perth, Calvin is in top class form to once again perform to a very high standard…good luck Calvin!
Mackay Road Runners next club event, The Tilse Toddle, will be held this Sunday at 5.30pm from 24 Johnson Street, West Mackay. The hosts welcome new and existing runners to a very social 5/10km run from 5.30pm with post run refreshments available. Even though this is a social event, runners are reminded to arrive at least 20 minutes prior to gun time, thus allowing for registration, course briefing and notices, etc. Runners are also reminded to join up online asap so that once the handicap runs commence, they will earn handicap and club championship points at specific events throughout the year as noted on the Program. Runners must wear their numbers and timing chips so that they are officially recorded on the results, otherwise, they will not have their times noted at all.
Mackay Road Runners invite all new and interested persons, current members, their families and friends to attend any or all of their events.