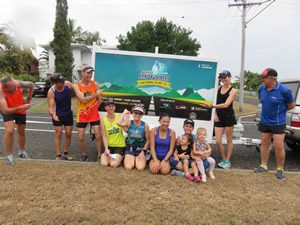 Local runners including Mackay Road Runners members were spoilt for choice last weekend with a variety of running options being served up on the menu across the state. The various events including the popular Townsville Marathon Running Festival, Brisbane Marathon Running Festival, the inaugural Mackay Mountain Marathon at Eungella and the Mackay Road Runners weekly Club run at Lamberts Beach.
Ex Mackay Road Runners, Julian Picot claimed a sensational second place in the Townsville Marathon, David Perkins participated in his tenth Townsville Marathon and Peter Houghton was outstanding in his second ever marathon, with his first one only this year at the Gold Coast. Mackay's Townsville Half Marathoners included Daren Galea (1 hr 31 min 32 sec and 2nd in his age category), Graeme Railton (1:35:48), Clay Perkins (1:38:41), Joseph Grech (1:42:55), Jose' Short (1:49:27 and 2nd in age), Carmel Grech (2:03:21), Tracey Dean (2:04:06), June Bradley (2:04:08), Natasha Davis (2:12:19) and  Madonna Bugeja (2:32:57) as well as a bevy of locals in the 10km and 5km events.
The inaugural Eungella Mackay Mountain Marathon run was staged in perfect conditions and surroundings via the undulating, winding roads and beautiful testing trails  of the Eungella National Park.  Local Mackay Road Runners took advantage of a variance of distances from 38km, 15km and 5km. Junior runner, Jamie Sanders took on the 15km challenge, collecting bronze alongside Shelley Binney, who scored the silver medal within a strong field of approximately eighty runners and walkers. Outstanding Junior female athlete, Rachel Silvestri, who thoroughly enjoyed running in her backyard, was first for the girls in the 5km,  with a superb display of road and trail running ahead of Layla Sanders, Maddy Price and Indee Price. The 38km was a tough outing, with Leon Ryan taking gold in 3 hrs 34 min 11 sec ahead of James Leonard (3:36:36), Tim Caddy (4:07:25) and Pieter Van Uuvren (4:11:26).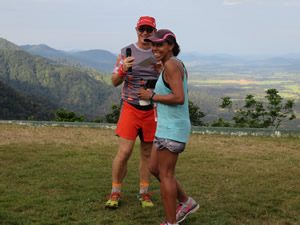 Meanwhile, locally, approximately thirty runners enjoyed the unexpectedly warm conditions in the social 5/10km run from the Seabreeze Tavern Hotel, Lamberts Beach precincts at 4pm last  Sunday afternoon. Courageous twelve year old Tahlia Campbell smashed the 10km course in spectacular form, scoring a victory in the process.  Liam Mumford easily took out the 5km run despite a football injury the previous weekend. Liam will now head back to the USA to continue his academic and athletics scholarship which includes a 7000 feet altitude training camp in the first week of his return. Russell VandenBosch, Ross Vickers, Stuart Sprott, Jo Skinner, Craig McGahey, Sarah Jensen, Ashleigh Davies,  and Ulrika Widdowson also performed extremely well.
This Sunday's Mackay Road Runners 5km/14km event is scheduled for a 4pm handicap start from the Eimeo Pacific Hotel carpark precincts. All runners are reminded to wear their race numbers and timing chips and be registered with the timing steward/registrar by 3.45pm at the very latest. This will then allow the course briefing and club news to be delivered by the Race Director.   All runners must be aware of their own safety whilst running on the roads at all times as well as being hydrated and nutritionally prepared for your event.
A reminder to all Members that the Committee meet monthly on the second Monday at 5.30pm to discuss upcoming events, club progress, etc….. therefore, all committee members are requested to attend and ALL Members are most welcome.