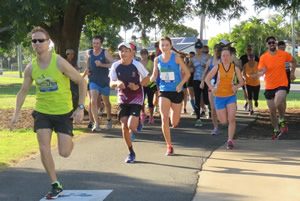 Approximately thirty Mackay Road Runners competed in the very social "Nominate your Time" 5/10km event last Sunday which commenced 4pm from the Lagoons Botanic Gardens Playground.  Club Captain Jim Ford and Volunteer Co-ordinator, Paul Tilse were in charge of recording runners' guesstimated times and collecting their timing devices.  Runners then had to run their event watch-free and cross the finish line in a time as close as possible to their nominated time.
In the 5km, winner, Bill Morgan's time was perfectly outstanding as he ran his time to the exact second. His twenty-three minute fifty second time was amazingly spot on, however, this pacing business must be a family trait, as his son Will, collected second prize for being the next closest to his predicted time. Both runners were ecstatic with their 'tick tock' and 'time-out' prizes, with Will gladly taking responsibility of getting them home in one piece….yeah right!
In the 10km event, Scott McIntosh was exceptional with his timing as well, being only three seconds off his pre-nominated time, therefore taking home the fabulous 'tick tock' bickies award.  Second place was almost sealed by Anthony Blines with a ten second differential, however, the final runner, David Isbister, scored a nine second difference to his guess, snatching the 'time-out' prize almost literally out of Anthony's hands.  Being the congenial, sharing and caring person he is, David was happy to share his prize with Anthony as they happily devoured the prize in a time much less than their 9/10 second race deficits….well done guys!
The fastest runners on the day belonged to Ashleigh Davies and Lindsey Wiggins in the 10km and Ashlee Scott and Will Morgan in the 5km with credible efforts also from Indiana Brough, Joshua Bornman, Maddie Price, Danielle Brough, Rawley Brough, Jamie Bornman, Ross Vickers, Judy Zahn, Rachel Silvestri, Vicki Vickers, Cilla Martland, Jan Smith, Jo Hughes, Kim Saron, Luke Schatkowski, Peter Wright, Matt Jurak, Leanne Connor, Simon Henderson, Karla Hook and Carmel Mahon.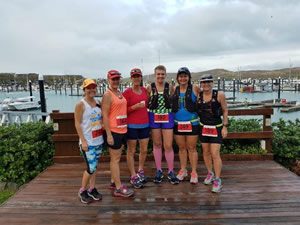 Meanwhile, in overseas running news, The Stamford Financial Hamilton Island Hilly Marathon was run and won on the beautiful amended course at Dent Island. Hamilton Island's Race Director and Events Co-ordinator, Steve Jackson, was once again sensational in organising (and reorganising) the total event with a bevy of wonderful volunteers……Congratulations, Steve, on a wonderful event, outstanding once again despite Cyclone Debbie's spiteful efforts!  The winner of the Half Marathon was local Mackay runner, Carl Pinkstone, notching a sensational win in one hour thirty-two seconds over super credentialed runners, Townsville's Sam Stedman (1:34:27) and Race Ambassador, Steve Moneghetti (1:35:41).  Carl's awesome efforts were nothing short of spectacular as he blitzed the Dent Island course in sizzling fashion. Carl was one of many local runners who supported the 11th anniversary of this event, including Wayne McMurtrie (5th) and race sponsor, Martin Lambert (7th) in the Marathon.  There was a record number of Individuals and teams in the half marathon which included local fitness groups, Esafe Fitness, Triactiv8 and Step into Life. Mackay Road Runners half marathon individual runners, Greame Harris, Darren Binstead, Leon Ryan, Andrew Short, Andrew Wallace, Jose Short, Kristian Safe, Emily Wicks, Jo Skinner, Glenn Stephens, Janine Bella, June Bradley, Karen Low, Jenny Harmer, Di Clulee, Bernadine McKinnon and Ulrika Widdowson thoroughly enjoyed the Hamilton Island event and hospitality as did junior runners, Jackson Harris (3km) and Axel Safe (500 metres) and Charlee Binstead (500 metres).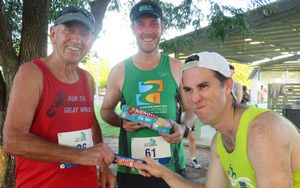 The next Mackay Road Runners event will be held this Sunday from 39 Vassallo Drive, Glenella at 6am.  The 30km and 5km Club Championship event will be hosted by the Bishop Family with the usual treats on offer.  The Icey Cup Guys, Milly and Hughie, have stepped up once again, however, their stock will feature two flavours this year at fifty cents each.  The Bishops will also be supplying a BBQ breakfast, tea and coffee with donations to The Indigenous Literacy Foundation who are a national book industry charity, which aims to reduce the disadvantages experienced by children in remote Indigenous communities across Australia, by lifting literacy levels and instilling a lifelong love of reading.  Mackay Road Runners appreciate the Bishop's awesome generosity therefore, please support their wonderful time and efforts in staging the event from their house as well as offering delicious treats for a worthy cause……thankyou Millie, Hughie, Julie and Brendan!
The BMA Mackay Marina Run in only one month away!!!!! With early nominations closing on 30th April, registrations are still open, however your race singlet/shirt size is now not guaranteed.  Go online now to secure your race spot as well as booking in for the Friday Night pre-race social event with Race Ambassadors,