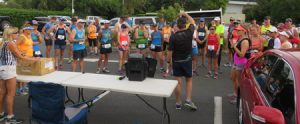 The Mackay Road Runners 5/13km Kmart Loop attracted nearly sixty runners, gathering at the Gordon White Library Carpark last Sunday at 5pm in threateningly stormy conditions.  President Tim Magoffin briefed the eager runners on the very technical Mt Pleasant course which included many twists and turns, including the testing ascent of High Street and treacherous descent of Pollock Street.
In the 5km event, seventeen year old Jamie Sanders was exceptional taking gold ahead of talented sprint Queens Ashlee Scott and Rachel Silvestri, followed by outstanding youngster, Will Morgan.  Lauren Morgan, Ryan Barben, Hannah Morgan, Hayden Connor and Leon Barben also performed well in the steamy conditions.
In the 13km race, Carl Pinkstone ran extremely well to lead the field ahead of Shawn Claydon, Mitchell Thompson, Jared Spence, Craig McGahey, Scott McIntosh, Alan Zamparutti, Andrew Short, Michael Feenaghty, Anthony Blines, Simon Henderson, Tim Caddy, Charlie Bone, Paul Arvidson and Ross Vickers. Craig and Tim have been in top form of late with both recording personal best times at the recent 5km Club Championship. Alana Ford was in sprint mode from the gun, taking out the 13km female event ahead of talented rivals, Ashley Davies, Carmel Mahon, Jose Short, Karla Hook, Judy Zahn, Sarah Jensen and Jo Skinner.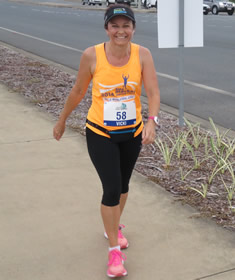 Many thanks once again to our valued weekly and race day volunteers for their awesome efforts:- Tim Magoffin, Andrew Short, Cilla Martland, Stephen Oberg, Daniel Stampa and Paul Tilse…..they deserve our wholehearted appreciation so that members can do what we all love…..please say thank you often!
Runners are now looking forward to the second Club Championship event on the 2017 program, the 5km Junior and 16km Senior Slade Point Pub to Pub commencing 6am this Sunday from 367 Slade Point Road. The widely anticipated Blue Ribbon Event will have its usual delicious Bacon and Egg Magoffins on offer as well as a post-race dip in the pool for a gold coin donation towards the Mackay Branch of the Leukaemia Foundation. Runners are requested to arrive at least thirty minutes prior to the scratch start with registration closing ten minutes before gun time for a strict 6am start.  Many thanks to the Magoffins for hosting the event as they are in the middle of moving house, so it would be appreciated if the usual major consideration is given to Tim, Sandra, kiddies and Dougie for allowing us the use of their residence at this very busy time.
Runners are advised nominations for the Eungella Trail Run Half Marathon event on 2nd April are closing soon, therefore with no registrations taken on the day, runners are advised to go online ASAP to register. The event commences 8am from the beautiful precincts of the Eungella Chalet with presentations and refreshments for purchase pre/post-race in their dining area.  Many thanks to Sponsors, Race Director, Matt Stevens and his awesome team for organising the unique event.