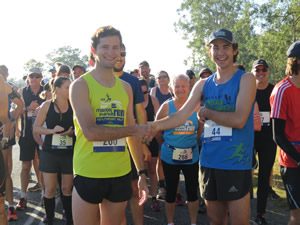 The running of the prestigious Mackay Road Runners Signature Club Championship MTTest/Mackay Tyrepower King & Queen and Podiatry Mackay/Laura Pettifer Inspirational Junior King & Queen of the Mountain was an outstanding success. The event, which started at Netherdale for the Open 6.4km race and half way up the Mountain for the junior race, was held in perfectly cool conditions at the commencement time of 8am. The conditions turned very warm as athletes scorched up the Mountain to the finish line which was just before the entrance of the historical and iconic Eungella Chalet who was also a sponsor of the event.
Over sixty runners challenged themselves on the testing course towards the pinnacle before relaxing at the Eungella Chalet for breakfast and spectacular clear vistas of the Pioneer Valley and beyond. After Mackay Road Runners Club President, Tim Magoffin, welcomed members and casual day runners, he then requested a one minute silence be held for multi-talented athlete and previous Queen of the Mountain, Laura Pettifer, who passed away in a cycling training accident in 2008. In Laura's honour, her Mum, Veronica Pettifer, has sponsored a perpetual trophy and sports voucher for the first male and female junior winners as inspirational encouragement for their development.
Podiatry Mackay's, Donald Orr has also been a major part of the junior race by donating cash prizes for over fifteen years for the first four males and females across the line as well as feet lollies for every runner as they conquered the course.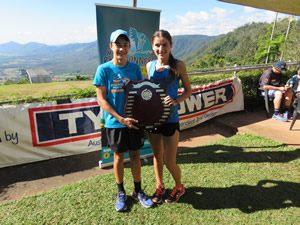 This year's Podiatry Mackay/Laura Pettifer Inspirational Junior King and Queen winners were sensational running duo, Rachel Silvestri and Will Morgan, who have both just been away in Brisbane for State Secondary School Cross Country trials, where Rachel scored a coveted place in the Queensland team to go to the National Titles in chilly Tasmania in a couple of weeks. Second placed male in the junior event, Sam Riggs ran a great race to take silver ahead of brothers, CJ & Jesse Robinson. Anabella DuToit was sensational, claiming second followed by Layla Sanders and Lauren Morgan.
The MTest/Mackay Tyrepower Eungella King of the Mountain crown remained with the incumbent winner, Liam Mumford who posted a fourth straight victory over first time King of the Mountain runner Hunter McGovern. Fifteen year old, Hunter has been in superb form scoring several personal bests this season with yet another successful run, finishing only seconds behind Liam. Daren Galea, who placed third ahead of Jade Hammer, ran extremely well whilst supporting two young runners in the junior event. The MTest/Mackay Tyrepower Queen of the Mountain went to speedy Ashlee Scott ahead of Mackay Road Running buddy, Alana Ford. Both girls are first timers over this course, with very successful results over previous Queen of the Mountain, Carmel Mahon and Jose Short. Ashlee, who is one of a host of fine female runners within the Mackay Road Runners 'ranks, has unlimited potential over the longer and hilly events as well as the shorter ones. Both male and female race records in the 6.4km event remained unbroken despite a $500 bonus cash incentive by an unnamed Club Member for the male and/or female to break the 1991 feat of 27 minutes 51 seconds set by local male running legend, 13 time race winner, Charlie Martel and Townsville's Alison Wilson (34:55).
Congratulations to all runners and cyclists who participated, whether personal goals were attained or not….the action and purpose of having a go, knowing it would be tough was awesome, everyone should be very proud of themselves. Many thanks to all volunteers including members of the Mackay Road Runners, Mackay Cycling Club and Mackay Triathlon Club, MTest, Mackay Tyrepower, Podiatry Mackay, Veronica Pettifer, Eungella Chalet, Maz Wright (homemade goodies), Finch Hatton Police, Tropical North ABC Radio (Teegs), The Daily Mercury and Midweek newspapers…..so much appreciated.
The Mackay Road Runners event this Sunday commences 8am from The Cape Hillsborough Park/BBQ area near The Resort. The 4.5km & 9km Junior and Senior Club Championship run will be followed by a free social sausage sizzle and random prize draws for runners and supporters. Casual day runners are most welcome for a very low non-member fee of $10.