Last Sunday morning, on NRL Grand final day, Mackay Road Runners held its penultimate event on the formal 2017 program, which was the very social Jungle 5/10km run commencing from the Botanic Gardens Playground carpark, Lagoon Street. Approximately thirty runners enjoyed the 6.30am foggy start  in very humid conditions for a tropical,  scenic loop meandering through the Botanic Gardens and Soundshell precincts.
Ashlee Scott was dominant once again, crossing the finish line first overall in the 5km leaving the quality field in her wake.  Junior runner, Hayden Connor was in fine form despite the early morning start and then off to work after the race.  An excellent run by veteran, Bill Morgan, who has been gradually improving throughout the season, surged towards his undoubted potential in the later stages of the year.  A large contingent of runners from The Little Sprouts Chiropractic Group had a great day out with their families, tackling the social 5km in a very relaxed style, although that was not the case for Dr Anthony, who bolted the 5km in spectacular fashion to cross the finish line marginally behind the leaders.  Excellent performances also came from Jose Short, Bernadine McKinnon, Vicki Vickers, Carolyn Steginga, Carmel Mahon, Simon Henderson, Ross Connor, Craig McGahey, Jo Skinner and Leanne Connor.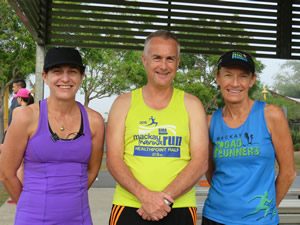 The final run on the Mackay Road Runners calendar will be the much awaited Eungella 21k Trail Run which was cancelled earlier this year due to unrelenting inclement weather conditions, which forced it's cancellation due to the unsafe condition of the National Park. Many thanks to the patience, hard work and resilience of the Eungella National Park's, Greg Lennox and his Team for their efforts and advices at that time.  Runners are now very excited to finally be able to enjoy the trail run in one of the most beautiful, pristine and iconic locations regionally and internationally.  Racing is set to commence 8am sharp from the Eungella Chalet, with all runners and volunteers registered and checked in at least 15 minutes prior to the gun.  Race Director, Matt Stevens and his committee, welcome all runners and their families to enjoy the hospitality of the Eungella Chalet, whether staying in their accommodation or sampling their awesome cafe and bar menus.  Many thanks to all concerned in staging the sensational event which will have Presentations and random draw prizes post-race for competitors and volunteers in the Eungella Chalet outside dining area.
Mackay Road Runners prestigious annual Awards evening will be held Saturday, 14th October from 6pm at the Breakwater Bar & Restaurant (old Yacht Club), Mackay Marina.  Members, their families and friends are most welcome to attend with junior presentations to be held at 6.30pm and the Senior Presentations from 7.30pm.  All attendees must RSVP to Heather Sprott or Erin Safe ASAP – $55 Members & $65 non-members, with juniors free unless they are staying on for dinner.  The evening promises to be a culmination of a wonderfully full year of exciting events, experiences and achievements…..celebrate in style whilst the comedic and congenial Master of Ceremonies, Club President, Tim Magoffin hosts the evening speeches and awards.  Club Patron, Col Meng with his lovely wife Rhonda, will be on hand to present trophies to the deserved recipients.  Photographer, Paul Tilse will be on hand, no doubt under major duress, to record the evening images for Members, as well as collating a slide show of the year that was.