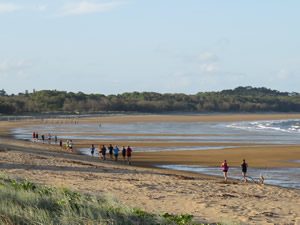 Mackay Road Runners indulged into the Christmas spirit at last Sunday's second last Sunday afternoon run before Christmas, happily and generously donating a huge array of non-perishable food items for the Salvation Army's Christmas Appeal. Organiser of the hamper donations, Club Secretary, Alana Ford, was ecstatic with the response from Club members and local businesses over the past month with a huge quantity of items to be presented to the worthy charity this week. Among the generous sponsors was IGA Supermarket, South Mackay and Ricky Parker Painting. Ricky also donated six random draw Christmas gifts to the generous Club runners, with all winners very excited with their prizes. Ricky is always very supportive of the Mackay Road Runners, donating impressive cash prizes at the Mackay Marina Run as well as random draw prizes throughout the year at various running events.
Meanwhile, the Bucasia event hosted by Mackay Road Runners' Race Director, Jim Ford, who as usual, organised a great 6km & 10km course from Bucasia Shopping Centre to Shoal Point via the beautiful Bucasia shoreline with a return trip via Shoal Point Road. With over thirty keen runners, Jim split the field into two teams based on what side the bridge runners resided, with all runners competing for THE major prize. The Northside Team marginally defeated the Southside Team, although the run was on the Northside, therefore the handicap weighting will be reviewed in future! Northside Team Captain, Steve Oberg, gratefully accepted and shared the coveted prize with his team and their Southside rivals. Jim congratulated all participants on a great run with all competitors enjoying the very social and casual nature of the Club organiser's antics. Congratulations to new runner, Carmel O'Shea who came along with her Mackay Road Runners friend, Brenda Windsor from Koumala as well as regular runners Leanne Connor, David Isbister, Noel Barnett, Tim Caddy, Alana Ford, Carmel Mahon, Karla Hook, Jose Short, Ross Connor, Mark Takagaki, Carolyn Steginga, Ricky Parker, Jo Skinner, June Bradley, Glynis Forse and Peter Ford.
Although runners are now looking forward to Christmas, Mackay Road Runners will still hold its regular Sunday social run at 5.30pm from the Tourist Information Centre, Ram Chandra Place, City Gates. The Christmas Eve casual run will have a special guest in Leonie Featherstone who is an Author and Leader of a Blue Diamond Team Of Wellness Advocates and DoTerra Essential Oils. Leonie will bring along some samples of her products for the athletes to try and a quick spiel on how and why she is so passionate about the product line.
Many thanks once again to Jim Ford and Alana Ford for organising post-race refreshments, prizes, course and marshalling….very much appreciated!