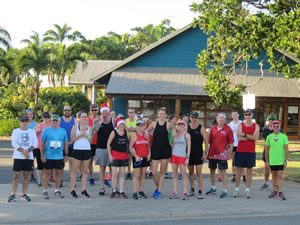 Last Sunday Mackay Road Runners welcomed over thirty runners and special guest, Leonie Featherstone (Author and Leader of a Blue Diamond Team Of Wellness Advocates for DoTerra Essential Oils) to their Christmas Eve Run from the Tourist Information Centre, Ram Chandra Place, City Gates.
Club Captain, Jim Ford, announced the course description for the 6km short and 10km long courses which took the dedicated runners through the South and West Mackay precincts before the final stretch through the beautiful Botanic Garden scenic meandering pathways to the finish line where Leonie imparting a wealth of information on DoTerra products which were based on the athlete and their ongoing health, recovery and performance maintenance. Leonie also generously donated specialised products for random draw prizes as well as free samples and valuable consultation advice.
The club also welcomed runners home on holidays, Anthea Ford from Cairns and Liam Mumford from the United States. Anthea has been studying and working in the far north for approximately five years, whilst Liam has been based at Charleston University, Virginia through a US based academic and athletic sponsorship over the past three years. Also great to see the return of Peter Ford, although he does live locally!
Runners who performed extremely well in the very humid December conditions included Mark Takagaki, Bill Morgan, Kim Saron, Jose Short, Carolyn Steginga, Carmel Mahon, Craig McGahey, Jo Skinner, Colin Hardy, June Bradley, Will Morgan, Ross Connor and Russell VandenBosch.
Mackay Road Runners will continue to meet regularly in the off season for a serious of casual social group training sessions, whether a Club Member or not – Wednesday 6pm Bluewater Quay, Sunday 5.30pm – check out the website for varying locations throughout the city.
Many thanks once again to Alana Ford and Jim Ford for the Race Directing and post run refreshments organisation…..so much appreciated.