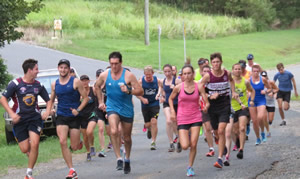 Approximately forty Mackay Road Runners eagerly took on the Mackay Harbour to Mt Bassett 5 & 10km event which included several repeats of the challenging Mt Bassett ascent and all without one drop of rain!
Before advising race instructions, Race Director, Alana Ford congratulated Ashlee Scott on her previous week's race organisation in the absence of Jim Ford and herself. The Mackay Harbour to Mt Bassett course included a one kilometre warm up run to the bottom of Mt Bassett and one ascent/descent to the peak before regrouping at the base for a series of hill sprint repeats. The lead runner, Liam Mumford, who was the formal 'whistleblower' (of a different kind), was in charge of sounding the alarm once he and the other lead runners, completed one lap of Mt Bassett. Upon hearing the whistle, all runners then stopped at whatever point they were on the hill for a thirty second rest. Once Liam blew the whistle to signal the end of the thirty seconds, runners returned to the pinnacle and back towards the start line for another thirty second rest.  Due to the variance of every runners' abilities, the course could be repeated four times or less depending of fitness levels, etc…. with runners then able to individually challenge themselves as hard/steady as they wanted, as the nature of the Summer Off Season Program is of a very social, casual nature.
In addition to the challenge of sprinting the hills, Daren Galea made the track look easy as he pushed his nearly one year old son, Kane in the off-road pram beside his very supportive wife Karlee, who was happy to allow him the privilege of the extra bundle of joy.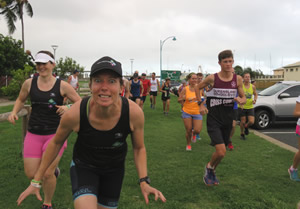 Liam Mumford enjoyed his final run for several months with Mackay Road Runners before his 21st Birthday this week and his return to University in the United States on Saturday. Liam, once again excelled in the field of runners ahead of fellow talented runners, Shawn Claydon, Josh Bornman, Ashlee Scott, Lindsey Wiggins, Paige Stolberg, Nikki Giles, Carmel Mahon, Stephen Oberg, Wayne Zahra, Niamh Buckley and Alana Ford. Many thanks once again to Alana for her awesome efforts in supplying post-race treats/prizes with the gold coin runners donate each week, as well as being a great inclusive ambassador of Mackay Road Runners.
Congratulations to Mackay Road Runners junior runner, Mitchell Kelly who took out third in the Mackay Junior Sportsperson of the Year. Mitchell will now head to Brisbane this year to attend University and running full time.
This Sunday's social Summer program 5/10km event commences 5.30pm from the Railway Station carpark precincts, Connors Road, Paget.  The writer's images of this event last year was of extremely windy and very wet conditions, not dissimilar to the recent January conditions Mackay has been experiencing. Therefore, all runners are advised to take extra caution whilst sharing the roads with other traffic. Mackay Road Runners will utilise the Mackay Regional Council's awesome walking paths as much as possible to ensure the safety of all participants, however it is your responsibility to GIVE WAY to ALL traffic at ALL times.
Mackay Road Runners advise their Annual General Meeting will be held 30th January at The Grove Tavern at 5.30pm with all positions up for re-election.  Several positions have been notified as being vacant due to commitments known already, therefore, the Club would deeply appreciate those wishing to take on a formal role, big or small…..you will be very welcome and your interest/ideas will be greatly respected.
Mackay Road Runners intending Members will be able to register for the 2017 season online very soon.