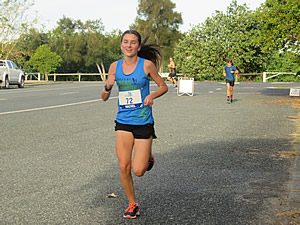 Mackay Road Runners Club President, Tim Magoffin, welcomed over fifty runners to the annual Forsyth's Accountants 5km Junior and 10km Senior Club Championship races. Among the competitors were race sponsors, David, Bernie and Cameron Forsyth and their gun runner employee Shawn Claydon, who placed 2nd in the 10km open male section. That's not saying that Cameron, David and Bernie aren't gun runners, however, I do believe there were a few cramps after the race but one of them.
Forsyth's Accountants are to be congratulated for being an integral part of the Mackay Road Runners Club as a race sponsor for over ten years. David and Bernie Forsyth have also been involved personally with the club for approximately thirty years with them both earning themselves many trophies for their running achievements.  They have also been a vital part of the Club's committee, assisting in many volunteer roles throughout that time.
Home on holidays from USA, University student and athletic scholarship recipient Liam Mumford, took gold in the 10km event over past champion, Shawn Claydon. Third placed junior, Hunter McGovern chose the longer distance, running exceptionally well among his older and more experienced rivals including fourth placed Mark McFadzen, who earned the final open club championship points.
Ashlee Scott maintained her winning ways to clinch first in the female 10km and fourth overall ahead of second placed Ashleigh Davies, with Carmel Mahon collecting the final podium placing.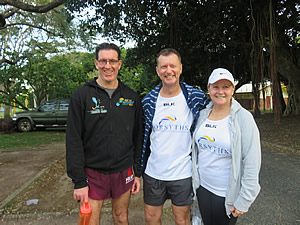 Exceptional junior runner, Will Morgan took maximum junior club championship points in the 5km over older junior rival, Josh Bornman followed by first female Rachel Silvestri.  Rachel has been in stunning form, once again breaking the tape first for the girls ahead of Lauren Morgan, Tahlia Campbell and Maddy Price.
There were some excellent performances from juniors and seniors alike, including over seventies competitors, Stuart Sprott and David Isbister. Indiana Brough, Jamie Bornman, Alan Zamparutti, Leon Ryan, Ulrika Widdowson, Jo Hughes, Greame Harris, Scott McIntosh, Cilla Martland, Jan Smith, Jose Short, Simon Henderson, Chris Skinner, Nikki Giles, Michael Feenaghty, Bill Morgan and Lee Taylor ran well to place highly in their events and age categories.
Many Thanks once again to awesome sponsors,  Forsyth's Accountants and race day volunteers Tim Magoffin, Andrew Short, Lindsey Wiggins, Jose Short, Sandra Henderson, Ange Furdek, and Bernadine McKinnon.
Congratulations to the many local runners who raced the Whitehaven Beach Half Marathon, 10km and 5km, which is a must do on every runners' calendar. Hamilton Island's Steve Jackson is the awesome Race Director of this event and as usual organised a very successful outing where runners and supporters thoroughly enjoyed his and his staff's hospitality in the unique surroundings of the iconic destination.