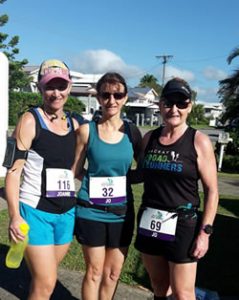 Mackay Road Runners annual Farmers Long Gallop 5km & 17km was as usual, held at the residence of Life Member Agnes Farmer. Agnes's husband, Fred, who has since passed, continues the Long Gallop tradition from the early days when Fred raced the longer distances in spectacular form. The race is always held at this time of year, where the conditions start off a little cool but then warm up in the latter stages of both 5km and 17km races. The 6.30am start is perfect although still a little early for non-runner Agnes! Many thanks to Agnes for hosting the event once again and for supplying yummy post-race brekky…so much appreciated!
The handicap start 5km & 17km races had runners on lower handicaps starting earlier than their faster paced peers. This style of race ensures an early lead for runners who would not normally be in front if it was a scratch start and also allows the faster runners ample time to warm up before their start time, thereby offering an excellent opportunity to chase down the frontrunners.
Handicapped back markers, Carl Pinkstone, Paolo LaPenna, Scott McIntosh Craig McGahey, Jose Short, Carmel Mahon, Alana Knesevic, Ainslie Heinke and Kylie Harbour pitted themselves against each other in a bid to get to the finish line in their personal best times. Alana and Peter Ford were very supportive siblings……until the finish line…..where Peter got a rush of blood and surged marginally ahead of newly wed Alana to sneak home first. Alana and Peter are NOT competitive! Dad, Jim, fortunately, was very sensible and happy to complete the 17km at his own well-paced time…well done Jim!
The 5km race saw the return of junior running sensations, Tahlia Campbell and Will Mogan, who blitzed the field based on their individual handicapped starts. Congratulations to all 5km runners, including Ashlee Scott who made a welcome return to running after a serious ankle injury. Excellent performances came from Leanne Connor, Jo Hughes, Cilla Martland, Tam Wanstall, Ross Connor, Bill Morgan, Jenny Harmer, Carolyn Steginga, Andrew Short, Mark Pashalis, Marie Muscat and Arthur Dick.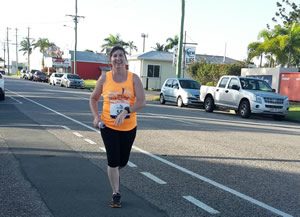 Seventeen kilometre runners had a tough outing as the course included many serious undulations including the final stages of the race where the legs did NOT need the extra challenges of Norris Road and Malcomson Street. The humidity was extremely high, therefore runners were thankful for the awesome water aid station volunteers and Mackay Marina Run Race Directors, Sandy Strong and Tim Magoffin….where would we be without them! It was great to hear the runners voicing their gratitude to Tim & Sandy as they did not race so they could aid runners. Tim also put on his President hat as he got to the start much earlier for the race day setup, pre-race briefing and course description which everybody carefully listened….right?
Thanks also goes to the course setup guy, the magical Andrew Short….WHO does put out the road signs, waterstop gear, etc….. and then collects them afterwards……hmmmm? Andrew must have been a great Santa, Easter Bunny and Tooth Fairy in his day….he's amazing, does it quietly and without fuss. Runners who may not have met Andrew need to show their appreciation to him and club volunteers who do so much work behind the scenes to get the weekly runs happening. Thankfully the 6.30am race wasn't any earlier, otherwise Andrew, Tim and Sandy would be out and about loitering at 2am! In addition to the above accolades, there were some excellent performances in the 17km including but not limited to Steve Oberg, Alan Zamparutti, Craig McGahey, Jo Skinner, Jan Smith, Stuart Sprott, Carol Brown, Brenda Windsor, Peter Ellison, Leanne Drury, Christine Smith, Jenny Smith, Di Clulee, David Isbister.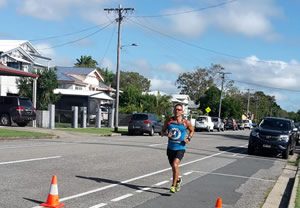 Registrar, Paul Tilse and timekeeper, Lindsey Wiggins also do ALOT of work behind the scenes getting race numbers, handicaps and results issued as quickly as they can. Should there be delays in results on the website, a problem may have occurred with the laptop and the time-consuming role of collating results ie late arrivals, individuals starting on incorrect handicap, no timing chips, etc…therefore please be patient and offer your assistance on race day as this will definitely help smooth the path for all officials. Congratulations Lindsey on a great 17km race yourself after getting everybody else underway. We must remember our volunteers ARE runners too.
Thank you to Jose Short and Jo Skinner for setting up the Club merchandise where runners can view and purchase a multitude of Mackay Road Runners items if they choose.
This Sunday's Mackay Road Runners event commences 4.30pm from the New Mulherin Park end of the Mackay Harbour (East Point Rd). Members, please note this will be a handicap start 5km and 11km race, therefore, all race numbers and timing chips must be worn.