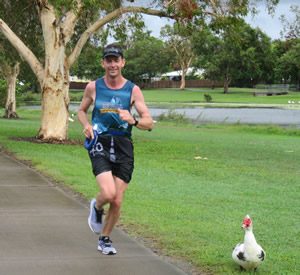 Approximately thirty runners braved the legendary annual Farmers 6km & 17km Long Gallop which was held last Sunday morning in the teaming, sporadic rain from the residence of Mackay Road Runners' Life Member, Agnes Farmer.
Mackay Road Runners Club President, Tim Magoffin welcomed approximately forty runners and supporters as he described the very technical course which took runners from the North Mackay suburban streets through Slade Point and Andergrove, back to the start via the beautiful Gooseponds parklands.
In the 6km race, the fastest time went to speedy Ashlee Scott in twenty-three minutes fifty-three seconds, only minutes ahead of Shelley Binney (29:05) and Lauren Morgan (29:10). The 6km male section was taken out by talented junior runner, Benji Binney (23:58), Matthew Smith (27:09) and Anthony Blines (29:14).  The top ten handicapped placings as they crossed the line went to Matthew Smith, Anthony Blines, Benji Binney, Lauren Morgan, Bill Morgan, Ashlee Scott, Shelley Binney, Cilla Martland, Brendan Bishop and Sandra Henderson.
In the 17km race, runners had to face several challenges other than the heavy raindrops including undulations of Harbour and Slade Point Roads with a relatively flat middle section through Andergrove before the testing hills of Norris Road onto Malcomson Street and the Gooseponds to the finish line, where the handicapped winner was eventually Craig McGahey, over second placed Jo Skinner, with Matt Graves snatching the bronze medal from Alana Ford by a mere ten seconds. The fastest top ten 17km times were clocked by Mark McFadzen (1:13:51), Greg Neill (1:14:44), Craig McGahey (1:19:07), Mitchell Thompson (1:19:47); Alana Ford (1:21:08); Ricky Parker (1:21:09);  Leon Ryan (1:22:18); Michael Feenaghty (1:22:51); Matt Graves (1:23:14) and Ashley Davies (1:25:25). There were some excellent performances across the very strong field, including Andrew Short, Karla Hook, Vicki Vickers, James Wortley, Jo Skinner, June Bradley, Judy Zahn, Peter Wright, Robyn Madill, Emma Goodman-Jones, David Isbister, Brenda Windsor, Stuart Sprott and Luke Schatkowski.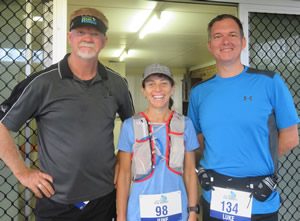 Many thanks to Agnes and her neighbour, Denise's hospitality so very early on Sunday morning as well as course setup/briefing, Andrew Short and Tim Magoffin, race day volunteers, Brendan Bishop, Lindsey Wiggins, Carmel Mahon, Sandra Henderson, Jose Short, Jared Spence and Ross Vickers.
Endurance running enthusiasts are now looking forward to this weekend's Stamford Financial Hamilton Island Hilly Marathon which will be held on Sunday morning on an amended course on the spectacular Dent Island.  Get ready for a massive day of awesomely breathtaking vistas and testing undulations on the internationally renowned Dent Island Golf course. Check out the Hamilton Island accommodation specials on line for participants and their families!
In the meantime, locally, whilst the Hamilton/Dent Island event will be all done and dusted, Mackay Road Runners will hold a social 5km/10km Lagoons Scurry 'nominate your time' race this Sunday at 4pm at the playground end of the Lagoons Botanic Gardens (T-junction of Lagoon and Jackson Streets, West Mackay).
Also, DO NOT  forget to register online asap for the BMA Mackay Marina Run for your choice of events from 3km to 21.1km or volunteer your time to help out on race day…..all welcome!