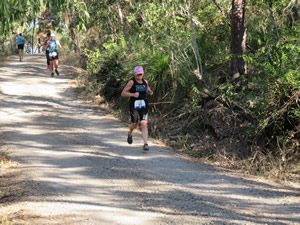 The Mackay Road Runners 21km trail finally got off to a flying start despite being cancelled earlier in the year due to atrociously dangerous weather. The conditions started off with very hazy visibility covering the start line at 8am, however, the skies cleared to a perfectly sunny day by 9am. Runners had the pleasure of racing on the well cleared, dry trails of the Eungella National Park which were previously severely damaged but repaired to pristine condition by awesome Park Ranger Greg Lennox and his team of National Parks and Wildlife workers.
Mackay Road Runners President, Tim Magoffin sent over sixty local and intrastate competitors on their way, all jostling for position early as the trail narrowed significantly as they hit the undulating and meandering trails of the beautiful National Park rainforests. Julian Picot was victorious taking gold in a sensational time of one hour 35 minutes 30 second, three minutes clear of second placed talented Alan Rask, followed by fast finishing Paolo La Penna a further four minutes later. Big improver in the local running scene, Leon Ryan scored an impressive fourth place only four seconds later!
Julie Brunker was the first female in one hour 53 minutes 42 seconds, finishing twelfth overall with second placed female just seven seconds over the two hour mark. Local athlete, Megan Moa claimed the final podium place in two hours one minute and 53 seconds. Congratulations to all runners with a large contingent travelling from Rockhampton, Airlie Beach and Townsville.
Many thanks to Race Director, Matt Stevens who spent an enormous amount of time leading up to the event, during and after. Race organisers and runners were very grateful to many generous sponsors and volunteers who made the day possible. The Eungella Trail run will be an annual event on the Mackay Road Runners program due to the rising popularity of trail and off road running locally and interstate.
Mackay Road Runners Club are very excited to be staging its forty-first Presentation Night this Saturday from 6pm at the newly opened Breakwater Bar & Restaurant (old Yacht Club). The Club warmly invites all Members, their families and friends to join them in congratulating their peers on a great year of successful sportsmanship and running. The Club is looking forward to seeing as many members on the night to take home a series of coveted awards including the Handicap Champion, Male and Female Junior and Senior Club Champions as well as the usual very well received random prizes. There will be a lucky door prize from ESafe Fitness to the value of $168 which has been donated by road runners, Erin, Kristian, Axel and Miss D…..so, what are you waiting for, rsvp now for an enjoyable evening of congenial and supportive heckling!