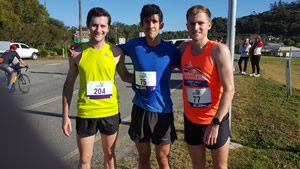 Mackay Road Runners, Mackay Cycling and Mackay Triathlon Clubs hosted the M-Test Mackay and Torque Tyres and Trailer Parts Eungella King of the Mountain last Sunday morning in perfect running and cycling conditions. The 8am start from the small rural township of Netherdale, 6.4km from the Eungella summit and finish line, was extremely cool as athletes, supporters and organisers gathered from 6am in readiness for the morning's racing.
The Mackay Road Runners Signature Club Championship event had awesome prizes on offer from M-Test Mackay, Podiatry Mackay and the coveted Laura Pettifer Inspirational Trophy. Mackay Road Runners have been conducting the prestigious event for thirty-five years and in conjunction with the cycle race since 2014. The tenth anniversary Laura Pettifer Inspirational Trophy donated by Veronica Pettifer, supports the Junior 3.2km male and female running champions with a perpetual trophy and sports voucher for the deserved recipients. Approximately forty runners and sixty cyclists held one minute's silence in respect of Laura Pettifer, who tragically passed away in December, 2018 whilst on a hilly cycling training session. The memory of Laura will continue with the support of her Mum, Veronica and the local triathlon and running communities who will never forget her endearing and generous persona.
Talented trail and mountain running champion, Carl Pinkstone was crowned King of the Mountain in a star studded field of talent including second placed, local, now international runner, Liam Mumford, third placed Julian Picot and Rod LeCoz (4th). Carl's excellent time of thirty minutes 13 seconds was just over two minutes shy of the 1991 race record set by Eungella King of Mountain legend, thirteen time winner, Charlie Martel.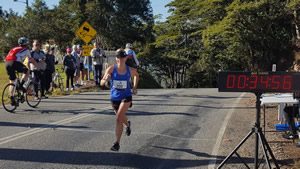 Queen of the Mountain, Alyce Garth was just two seconds off the 1991 female race record of 34 minutes 55 seconds. Alyce's sensational race placed her fourth overall and three seconds in deficit from collecting the $500 race record cash prize. Alyce has been in top form this year, also taking out the recent BMA Mackay Marina 8km run in sizzling style. Ainslie Heinke (41:25), also clocked a spectacular time to score the silver medal ahead of third placed Kyle Harbour (42:40) and Alana Ford, fourth in 43 minutes and eight seconds.
There was sensational racing across the board but none more so than eight year old, Max Scotton who challenged himself by taking on the 6.4km senior race in lieu of the 3.2km junior distance. His fifty minutes twenty-four seconds placed him mid field and the winner of the Junior King of the Mountain. Max's Dad, Daniel was ecstatic (miffed) to be left in his wake, just seeing the back of his son's bright orange shirt fading into the distance. Max's name will be recorded as this year's Junior male King of the Mountain on the Laura Pettifer Inspirational Perpetual Trophy. He also won the Podiatry Mackay cash prize as well as the $100 sports voucher from Veronica Pettifer.
Excellent performances also came from seventy-two and seventy-four year old, Mackay Road Running stalwarts, David Isbister and Stuart Sprott. Unbeknown to these humble gentlemen, their younger peers are embarrassed that Stuart and David are pretty tough to beat, however, are respectfully in awe of their excellent running resumes. Veteran female runner and former ten time Queen of the Mountain champion, Judy Zahn, was also in scintillating form as the sixty-seven year old (sorry Jude!) smashed the course in her usual non-stop pace. Judy's Eungella winning hiatus covered an unprecedented 20 year span from 1994 to 2013 with her best time being 38 minutes 17 seconds. Judy is a Life Member of the Mackay Road Runners and also an excellent inspiration to its members and the wider community. Visiting New Zealand runner, sixty-five year old Diane Oxley also had a standout run, easily taking in the cool and hilly conditions in her stride.
Judy, Diane, David and Stuart's awesome running feats were well supported by fellow competitors, Leon Ryan, Mitchell Thompson, Scott McIntosh, Doug Bettington, Steve Oberg, Andrew Short, Jose Short, Alix Ryman, Luke Schatkowski, Bianca Black, Dannelle Thompson, Tim Dalton, Mark Takagaki, Peter Ford, Shane Barben, Janelle Tilse, Andrew Wotherspoon, Jim Ford, Karla Hook, Leanne Franklin and Arthur Dick.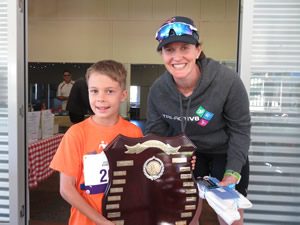 Many thanks to the Eungella Community Development Committee who had sumptuous brekky options on offer for the athletes and their supporters. Ian, Maz, Joan and crew are an excellent support to the various sporting groups, now offering 24/7 showers/toilets in their beautifully renovated hall. A hearty thank you to race day sponsors and supporters, M-Test Mackay, Torque Tyre & Trailer Parts, Podiatry Mackay, Finch Hatton Police and the Tri, Cycle and Mackay Road Runners Clubs.
In regional running news over the weekend, several Mackay Road Runners competed successfully at the Airlie Beach Running Festival, specifically Ricky Parker taking gold in the 5km. Mackay runners were also well represented by marathoners Mark McFadzen and Brenda Windsor, half marathoners, Lindsey Wiggins, Joe Grech, Martin Lambert, Janine Bella, Jo Skinner, Julie Whibley, Andy Steane and June Bradley and 10km competitors Peter Shuttlewood, Marie Muscat, Alex Anderson and Tim Caddy.
Junior running sensation, Rachel Silvestri performed extremely well at the Secondary School under 17 State Cross Country Championships scoring a silver medal for Queensland. Rachel was ecstatic with her result over the 4km testing cross country course at Maroochydore. Rachel will now compete in the relay event on Monday 23rd July, hopefully adding another medal to her haul. After her successful outing, Rachel will head to the National Titles in four weeks to be held in Queensland's hilly region of Maleny. Congratulations to her and Mackay Road Running buddies, Layla Sanders, Simba Walz