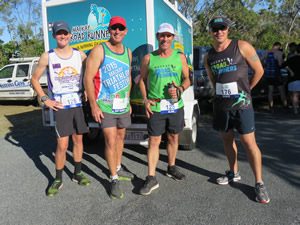 Mackay Road Runners annual Eimeo 5km & 14km event was held in perfect conditions from the spectacular location of the Eimeo Pacific Hotel.  Approximately sixty runners enjoyed the staggered start based on their handicap before tackling the testing undulations of Dolphin Heads in the shorter race then proceeding towards the Eimeo School precincts via Blacks Beach's testing Camilleri Street  and Busuttin Drive in the longer event.
Club President, Tim Magoffin welcomed the keen crowd including many new runners and existing members to test themselves against the clock as well as partake in a great couple of hours of supportive banter and picturesque course vistas. Timekeeper and Results co-ordinator, Brendan Bishop, Tim and Di Morgan did a great job sending runners on their individual handicap start times, which is gauged and recalibrated each week based on their past club performances this year.
Ashlee Scott was once again outstanding in the 5km, clocking the fastest overall male and female time of eighteen minutes eighteen seconds ahead of Alana Ford (19:43) and junior sensation, Tahlia Campbell (20:36).  Tahlia placed first on handicap, with Finn Zamparutti, Anthony Blines, Scott McIntosh, Jamie Bornman, Alana Ford, Russell VandenBosch, Cilla Martland, Jo Hughes and Ashlee Scott rounding out the top ten handicap finishers. Scott McIntosh (18:43) was the fastest 5km male, ahead of Josh Bornman (19:07) and Finn Zamparutti (21:00).  Excellent performances in the 5km also came from Shane Barben, Sandra Henderson, Emma Carlos, Jenene McLellan and Peter Ford.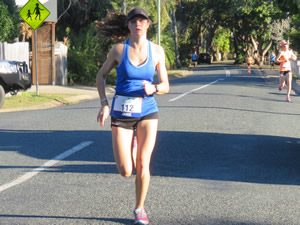 The 14km race saw backmarker ie highest handicapped runner, Julian Picot commence his run in a position seemingly impossible to catch many runners, however a stellar performance from the gun saw him reeling in runners at will with his speed and determination, clocking fifty-three minutes fifty-one seconds and amazingly finishing fifth overall on handicap.  Second fastest, Carl Pinkstone (58:29) ran well placing 8th on handicap with third fastest male, Andy List finishing a very respectable 12th on handicap. Carmel Mahon was the fastest female (1:12:22) ahead of Jo Skinner (1:16:26), Judy Zahn (1:18:16) and Jose Short (1:19:04). Chris Skinner had an outstanding run, winning the Handicap 14km race ahead of Chris Webb, Jo Skinner and Iggy Van Rensburg. Big Improver, Leon Ryan came in sixth, half a minute behind Julian Picot, with Alan Zamparutti, Carl Pinkstone, Stephen Oberg, Craig McGahey, Judy Zahn, Andy List, Jared Spence, Robyn Madill, Rebecca Woods and Linda Wetherall following in quick succession. Carolyn Steginga, Martin Lambert, Ashley Davies, Derek Woods, Ricky Parker, Stuart Sprott and Ulrika Widdowson followed through with some great back end performances.
Runners were very grateful for the water aid stations manned by Mark, Linda and Millie McFadzen and Andrew Short.  This is a very special race for Andrew, who was unable to run today due to injury, as it was his first ever run with the Mackay Road Runners four years ago. The Club has been blessed ever since Andrew joined up with his congenial, super helpful and supportive nature.  The writer remembers meeting Andrew at his first run….she couldn't get a word in….ummmm……NOT!
This Sunday's Mackay Road Runners NQBP Open and Podiatry Mackay Junior Magic Mile will commence 9am at the Mackay Marina Breakwater.  The run is open to members and non-members whilst being a Signature and Club Championship event, supported by the North Queensland Bulk Ports who will close the Breakwater for the race, and generous long term Sponsor, Podiatry Mackay's Donald Orr. The 1.6km distance is an iconic race on the Club's calendar, with race records held by local running legend Charlie Martel and four time Olympian and local girl,  Benita Willis.  The race will commence 9am sharp so that the Breakwater can be reopened to the general public……all welcome!