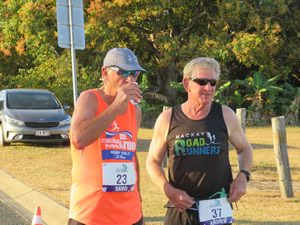 Mackay Road Runners hosted the annual Eimeo Pacific Hotel 5 & 14km hilly run at 4pm from the beautiful precincts of the Eimeo Pacific Hotel carpark. The warm conditions were very extreme for this time of year, with all runners in both events tested on not only the humidity, but the very hilly terrain.
Over fifty runners challenged themselves and conquered their individual events as they were sent from the starter's hands on a handicap start. Many thanks to timekeepers Lindsey Wiggins and Peter Wright, Registrar Paul Tilse and race day volunteers Tim Caddy, Di Morgan, Suzie Silvestri, Tim Magoffin and Andrew Short.
Five kilometre runners did extremely well as they sped down the initial hill to the flat Mango Avenue tree lined parade on their way to the Dolphin Heads Resort turnaround. The extremely technical course was so well marked that it only tricked up two runners ie one told the other the wrong way….sorry Teegs! Excellent running by Rachel Silvestri who is only two weeks out from representing Queensland at the National Secondary School Cross Country Titles in Maleny. Will Morgan also showed a clean pair of heels as he easily completed the course in his usual speedy style. Welcome back again to Jeanette Farrugia who also excelled in the 5km race alongside Charlie Bone, Carolyn Steginga, Tam Wanstall, Arthur Dick, Darrin Pullen, Sarah Jensen, Kim Saron, Leanne Connor, Jan Smith, Bill Morgan, Ross Connor,Mark Takagaki, Tim Caddy, Cilla Martland and Glynis Forse.
Jo Ashford was in great form as she led the handicapped field to the first water stop, ahead of Carol Brown, Stuart Sprott, David Isbister, Peter Ellison, Anna Walsh, Alan Zamparutti, Karla Hook, Simon Henderson, Lauren Dunne, Kylie Harbour, Stephen Oberg and Martin Lambert. Martin was also the generous gift giver of running buffs via his 'On the Run' training group. Martin was happy to demonstrate the multitude of ways the buff can be worn whilst running in a variety of hot/cold conditions. Scott McIntosh, Leon Ryan, Jose Short, Andy List, Julian Picot and Carl Pinkstone blitzed their way through the tough course, crossing the finish line in superb form after one final ascent at the Pacific Hotel to test their weary legs.
From one long event to the shortest race on the Mackay Road Runners Program, the club together with North Queensland Bulk Ports (NQBP) and Podiatry Mackay, will host the Mackay Magic Mile this Sunday morning at 8am. The 1.6km race will commence from the Mackay Harbour Marina Breakwater entry where runners will race in senior and junior divisions for the chance to win prizes and the famous Magic Mile Milo Award. NQBP have generously closed a specific section of the Breakwater for the event to be run and won.