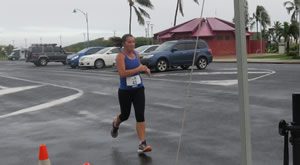 Despite the cool, windy and rainy conditions last Saturday morning, Mackay Road Runners, had an outstanding turnout of over forty runners at the annual Casu Jacks Pre Mother's Day 5/12km run from Casu Jacks Cafe, Mackay Marina.  As runners made their way towards Harbour Road, one ascent of Mt Bassett, of course, was included in both events, much to the delight of all runners…..not!   Casu Jacks hosts, Pauline and Gary were very much appreciated by the runners and supporters for their awesome post-race breakfasts available for purchase, as well as the Mother's Day themed random draw prizes donated by Mackay Road Runners Club. The handicap start 5km and 12km races commenced from 6.30am in the pouring rain, which then made way for cold breezes in the mid to later stages of the races. The adverse conditions eased as the final runner crossed the line, leaving runners to relax with a hot breakfast/coffee, etc….. for the post run prize giving.
Excellent running saw Jo Skinner win the 5km handicap event followed closely by Hannah Morgan and Craig McGahey. New Club runner this year, Bill Morgan, once again, stepped up, cruising to the finish line in the 5km, one full minute ahead of school buddy from the seventies, Paul Tilse. Bill's son, Will scorched over the course closing in fast to cross the line six seconds behind Paul.  Matthew Jurak and Hayden Connor followed in quick succession, with second female on handicap, Ashlee Scott, only two seconds behind Hayden. Veteran runner, Cilla Martland was next followed by talented junior, Jamie Sanders, Leanne Connor, Layla Sanders, Ricky Parker and Sandra Henderson. Ricky would most likely have finished higher in the field, however, as he asked "where's the 5km turnaround"…..at 8km, he did a wee bit more than 5km!
The 12km event saw young, Finn Zamparutti, stoked to break the tape first on handicap ahead of a very fast finishing Brendan Ridgley and Stuart Sprott and even more excited to be ahead of 4th placed Alan Zamparutti.  Fastest female in the 12km, Alana Ford, was next and also the first female to finish on handicap, followed by Jo Hughes, Lindsey Wiggins, Karla Hook, June Bradley and Scott McIntosh rounding out the top ten. Excellent performances were also on show by Martin Lambert, Andrew Short, Simon Henderson, Luke Schatkowski, Jan Smith, Judy Zahn, Vicki Vickers and Karen Low.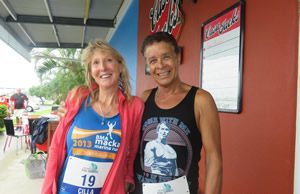 Many thanks once again to the race set up gang of Andrew Short and Tim Magoffin, both sensational once again, organising the course markers in the pouring rain. Soaking wet, Andrew,  then fronting up to race the 12km event, with Tim putting on his Race Director hat to advise runners of the course description, upcoming events and latest Mackay Road Runners news. Timekeepers, Millie Bishop, Brendan Bishop and Ashley Davies were super-efficient as usual, basing themselves in a tent, safe from the weather elements to record all Members' times for Brendan to collate and upload later in the day. Thank you…… the runners are so appreciative for their assistance week in, week out!
This Sunday's run is another super testing event from the Mackay Harbour New Mulherin Park (southern end), with distances of 5km & 11km and racing to commence 4pm sharp! Runners are reminded once again to arrive at least 30 minutes prior to racing so they can check in with the Registrar as registration will close strictly 10 minutes before the gun.  With the new computerised chip timing system, the laptop must be closed off at that time, so that the handicapper/timekeepers can set up for the start and Race Director to advise race briefing.  All runners must adhere to the Race Director's instructions for their own safety as well as the Club's liability guidelines.
The BMA Mackay Marina Run is less than three weeks away!  Go online NOW to register for your event as well as the Friday evening meet and greet with Race Ambassadors, Olympians, Benita Willis and Steve Moneghetti at the Ibis Motel, Mackay Airport.  The committee are very excited with the progress of the event, so don't be disappointed, nominate now, don't miss out on the largest regional running festival as co-ordinated by the Mackay Road Runners and the local branch of the Leukaemia Foundation.