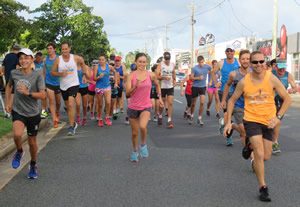 The Mackay Road Runners hosted its last summer off season social run last Sunday prior to the commencement of the 2017 formal program this weekend. A very successful and variable three month program was organised by Race Directors Jim Ford and Alana Ford with runners enjoying the unusual weekly course concepts, together with the very casual post run social aspect which included awesome hydration and refuelling treats. As always, Jim explains the course in great detail so that all runners have the opportunity to do whichever option they choose and hopefully not get lost.  The ever prepared Jim, had a risk assessment plan in place for himself by wearing a t-shirt with 'Ford' on the front, just in case in forgot his name!
The Boomerang Team Distance/Time Challenge was a unique event where all runners lined up via their dates of birth and were separated into teams after every fourth runner.  The challenge was for all runners, whatever distance they chose from the various kilometre options, to add the distance ran as well as the time taken by each individual, with the winning team gaining the coveted prize, ie bragging rights!
The heat and humidity played a big part in individual performances, however, teams were still very competitive, whilst enjoying the social nature of the event. Upon completion of the event, runners including Jo Skinner, Jo Hughes, Simon Henderson, Ashlee Scott, Carl Pinkstone, Bernadine McKinnon, Hayden Connor, Lindsey Wiggins, Will Morgan, Mitchell Kelly, Leanne Connor, Stephen Oberg, Tim Caddy, Martin Lambert, Layla Sanders, June Bradley, Jamie Sanders, Rachel Silvestri, Shane Barben, Andrew Short, Karla Hook, Anna Walsh and Jose Short enjoyed a grand finale off season celebration of the usual fruits and post-race hydration fluids as well as nutritious pumpkin and banana cakes, etc…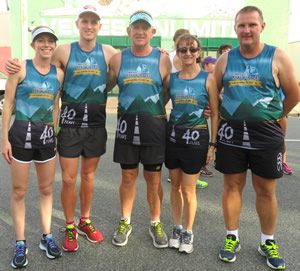 This Sunday will be a huge day for Mackay Road Runners with the Mackay Regional Sports Expo and Sign on at the MECC from 9am to 1pm followed by the first run on the formal 2017 Calendar at the Mackay Harbour boat ramp carpark/parkland precincts.  Many thanks to the volunteers at the Expo and all the weekly race days, it's YOU that make the Mackay Road Runners a very successful and enjoyable club to be associated with. Intending Members are encouraged to register asap.
Thank you to all those who attended and gave valuable input at the Annual General Meeting  last Monday and to those who volunteered themselves into the very significant and various roles required to run the Club.  Executive positions – Club President Tim Magoffin, Vice President/Publicity Officer Janelle Tilse, Treasurer/Handicaper Shawn Claydon and Secretary Alana Ford have accepted their roles with the vital supportive assistance of outgoing Secretary, Sandra Henderson, who's outstanding insight and knowledge in her three year term very highly valued and regarded by the Committee and it Club Members.
Outgoing Registrar Karen Baker and course marker, Glenn Baker will sadly be leaving the Club with a transfer to Brisbane in the next couple of weeks, therefore, a social run/walk has been organised by Julie Whibley this Saturday from the Shamrock Hotel at 5.30pm for those wishing to catch up and pass on their best wishes.  The Bakers have been an integral part of the club since they have been involved with both doing various time consuming roles on the Committee…..their valuable input, support and friendship will be missed!