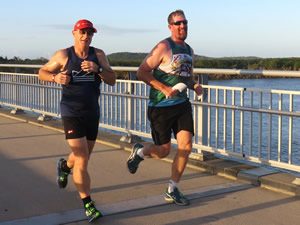 Due to the unrelenting and dangerous effects of Tropical Cyclone Debbie, the Mackay Road Runners designated race, The Eungella Half Marathon Trail run had to be postponed to a date to be confirmed later in the year.  Race Director, Matt Stevens and his Team made the tough but only decision they could based on the safety of all participants and volunteers. Many thanks to all for their understanding and patience at this time, however, once a date has been confirmed all entrants will be informed, therefore, watch this space, Facebook and the Mackay Road Runners site for updates.
Due to the much improved monsoonal weather conditions, in lieu of the Eungella event, Club Captain, Jim Ford notified Members of a 5/10km social run from the Bluewater Quay at 5pm last Sunday.  Jim's concept of involving everyone, fast or slow, was once again very impressive, where he organised teams with a balance of abilities. Teams were split with one half running East along the Sandfly Creek pathway and the other half heading over The Forgan Smith Bridge. Runners then met back at the start before crossing over to do their share in the other direction with the winner being the whole Team who arrived at the finish line first.
A talented team including Jenene McLellan, Russell VandenBosch, Jarred Spence, Jamie and Layla Sanders were first, clearly impressed with their coveted prizes from Jim's secret stash of social event trophies.  The best looking team consisting of Carmel Mahon, Caroline Steginga, Brenda Windsor ad Sarah Jensen were also the fifth runners up, however, unfortunately there was no prizes other than their adulation of each other's awesome supportive efforts…..congratulations Girls!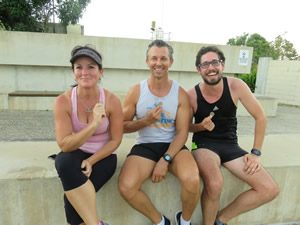 There was also some other outstanding efforts, including Josh Eisemann, Norm Dawes, Stephen Oberg, Martin Lambert, Andrew Wallace, Ashlee Scott, Simon Henderson, Charlie Bone, Lauren Morgan, Shawn Claydon, June Bradley, Mark Takagaki and Hannah Morgan…..with a notable mention to Anthony Blines for his sensational gigantic leap mid race…..very talented!
Runners are now looking forward to this Sunday's challenging 5/10km Rural View Run commencing 4.30pm from McCready Street, opposite the Northern Beaches Bowls Club. Runners are requested to arrive at least half an hour before gun time and park on the Northern Beaches Bowls Club side so as not to crowd McCready Street residents' access, with extra care taken crossing the very busy road to the start line. Runners are reminded to lace their timing chips on their shoes and wear their race number on the front of themselves.  Registration for the race is strictly cut off  at 10 minutes prior to racing so that a course briefing and any questions can be addressed.
Meanwhile, over the past week, ex Mackay junior runners, Jade Bidgood, Josiah McCarthy and Mitchell Kelly competed at the  2017 Australian Athletics Championships at Sydney Olympic Park with very successful personal results. In the under twenty 400 metres, Josiah clocked 51 minutes 80 seconds and finished 7th in his heat. Josiah finished sixth in the 800 metres heats (1:57:78), with Jade (1:57:18 – 6th) in his heat) and Mitchell Kelly (2:01:24 – 7th in his heat). Jade also ran the 1500 metres (4:05:38 – 6th in his heat). Mitch had to withdraw from the 5000 metres at the very last minute in the Call Room due to a chest infection he had been battling and therefore, did not get to compete in his pet event. Unfortunately, all boys missed the finals but recorded great times and were excellent representatives for their state.