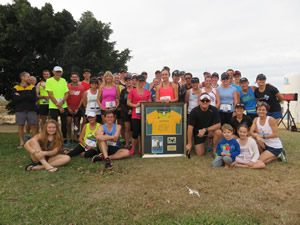 The Mackay Road Runners annual Benita Willis 10km Handicap Trophy held last Sunday afternoon is one of the major highlights on the Club's calendar. The 10km handicap start race winner takes home the magnificent and coveted framed Benita Willlis shirt, personally signed by the World Cross Country Champion, four time Olympian and local Mackay girl, Benita Willis. The Club, who are so appreciative Benita's continual and constant support, are extremely proud of her achievements at home and abroad as well as her generosity and humility being the very respected role model that she is. Benita was in town briefly last Friday as the inaugural Race Ambassador of the 5/10km Cityrun at the Mackay Marina. Unfortunately, Benita had fly back to Brisbane to host another major event the very next morning and was unable to attend the presentation to this year's deserved winner, Rebecca Woods.
Rebecca was very excited as she humbly accepted the major achievement presented by last year's winner, speed sensation, Ashlee Scott. Rebecca admitted to some important nutritional habits as the key to her success and the fact it was a very flat race after last weekend's very hilly course. Rebecca will formally receive the perpetual Trophy to keep for 12 months at the Club's annual Presentation evening on 14th October, however, in the meantime, a visit to hardware will be in order to find a bolt to hang the enormously impressive Trophy. Second placed Sarah Jensen was rapt with her race snaring second place with Tim Caddy, third and more importantly ahead of her dad, Charlie Bone. Club President, Tim Magoffin was given strict instructions by Charlie to slightly distract Sarah so he could get the jump on her pace, however, Tim lost his focus and forgot!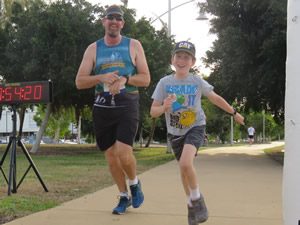 Highest handicapped runner, Julian Picot had an exceptional race, sprinting from his handicapped start of twenty-nine minutes to clock the fastest time of the day. Julian ran extremely well to overtake several runners in a bid to score the prestigious Benita Willis 10km Trophy. Another highlight of the race was a sprint finish between Shawn Claydon and Ricky Parker, with Shawn the eventual winner by a nose. Ricky "The Flash" Parker was totally spent after his sprint finale, however, knowing it would be dangerous, he couldn't help himself! Once he recovered, the congenial Flash proceeded to organise several random draws donated by Ricky Parker Painting and Hogs Breath Cafe. The winners were extremely grateful for their prizes, including Tim Magoffin who was happy to thank The Flash in his own special way!
Winner of the 5km, Tahlia Campbell, was sensational in her event, bolting from her handicap start to cross the finish line first ahead of approximately forty runners. Tahlia's awesome form was impeded by a cold as was second placed, Maddy Price, who was also not feeling on top of her game, however, the girls made sure they didn't over do it….smart ……and tough girls in Mackay!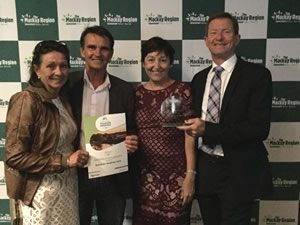 Congratulations to all the runners on their individual achievements, including Jose Short, Tim Magoffin, Leon Ryan, Charlie Martel, Carmel Mahon, Jarred Spence, Ashlee Scott, Greame Harris, Karla Hook, Simon Henderson, Cilla Martland, Sandra Henderson, Jan Smith, Colin Hardy, Stuart Sprott, Scott McIntosh, Leanne Franklin, Josh Bornman, Calvin Franklin, Nikki Giles, Ross Connor, Jo Skinner and Judy Zahn. Many thanks to race day volunteers, Andrew Short, Lindsey Wiggins and kids, Paul Tilse, Melissa Harris, Jess Harris, Ricky Parker, Tim Magoffin, Jose Short and Sandra Henderson. Best wishes to Brendan Bishop who is laid up in hospital at the moment, however, I'm sure Tim's visit will spark him up, so long as he doesn't mention running!
Superb news for one of the Mackay Road Runners Signature Events, the BMA Mackay Marina Run, which took out first prize in the Mackay Tourism Awards for the Event of the Year…..congratulations to the Leukaemia Foundation as well as Mackay Road Runners volunteers, community and corporate support for their contribution to the outstanding success of the event which will be in its tenth year in 2018. Race Director. Sandy Strong, his wife Chris and the Leukaemia Foundation's (Mackay Branch) Chris & Barry Comben were present and very honoured to accept the award on behalf of the entire Community.
Mackay Road Runners are now looking forward to this Sunday's Club Championship 3km event at 4pm from the Queens Park Rotunda via Goldsmith Street entrance. Runners will be vying for vital club championship points in the open and age categories towards end of year trophies. To be eligible to receive points, all runners must be Members and wear their race numbers and timing chips and be registered with the timekeepers at least ten minutes before gun time. This is extremely important for the efficient transition of collating results and handicap/club championship points. Mackay Road Runners Presentation night will be held Saturday 14th October – emailed flyers will be despatched soon.