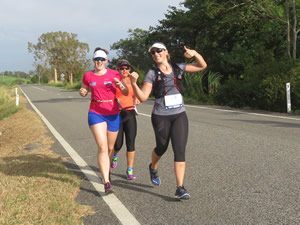 The  Alarm Guys were the awesome hosts of the annual Mackay Road Runners 5km & 30km Club Championship race last Sunday morning.  The 6am start's cool conditions were perfect for running, as the sun rose and hid behind the clouds for most of the event. Over forty runners tested themselves with outstanding results across two events via the undulating course which took runners from the Bishop's residence in Vassallo Dr towards the beautiful country suburbs of Rural View, Farleigh, Habana and return.
Jamie Sanders had a great race, taking gold in the 5km, mere seconds ahead of Carl Pinkstone and Matt Graves. Good friends, Simba Walz and Finn Zamparutti were fourth and fifth consecutively, finishing less than once second between them. Peter Wright and Simon Henderson ran well to sneak under twenty-five minutes followed closely by Mark Walz (25:37) and Alan Zamparutti (25:40).  In the female 5km event, Ashlee Scott continued her winning ways with a sensational 18 minutes 59 seconds, one of only three to clock under nineteen minutes. Rachel Silvestri was once again impressive, crossing the line a minute later, racing well in the lead up to local secondary school cross country representation the next day. Jo Skinner scored the final podium position ahead of Jose Short, Ulrika Widdowson, Cilla Martland and Leanne Connor.
After the 5km run, Ulrika and Jose then charged out to assist 30km runners, with Ulrika cycling the course and Jose assisting Jo Hughes at several water aid stops. Many thanks to them as well as Stuart Sprott, Linda McFadzen, Ross Vickers, Ange Furdek and June Bradley. A special thank you to Andrew Short and Tim Magoffin who were up very early attending to the course set up, with Andrew then totalled warmed up to sprint the 30km run.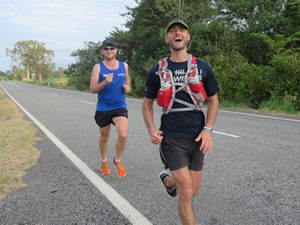 In the 30km event, Mark McFadzen took out maximum open and age category Club Championship points, beating a quality field to cross the line in 2 hours 15 minutes and 44 seconds ahead of Greg O'Neill (2:20:20), Darren Binstead (2:28:19) and Jared Spence (2:28:20). Leon Ryan was impressive finishing just under 2 hours 30 minutes, with Tim Caddy and Wayne McMurtrie just seconds over the 150 minute mark. Carmel Mahon (2:31:50) was also outstanding, declaring her intentions early, setting the pace and retaining her lead, taking gold ahead of Ashley Davies (2:47:01) and training buddy, Karla Hook (2:52:38). Returning to form, Vicki Vickers (2:58:40) was fourth followed by talented veteran, Judy Zahn (3:02:34), Linda Wetherall (3:04:57) and Anna Walsh (3:12:40). Sarah Jensen's recent training kept her in good stead for her first 30km run, smashing the course, marginally ahead of Chris Webb, Bec Baird and Janine Bella. Ultra-marathon runner, Brianna Mouat was next, just minutes ahead of sensational over sixties runner, Carol Brown. A worthy mention should go to seventy-one year old David Isbister, who clocked an impressive 3 hours 31 minutes!
Young entrepreneurs of the The Icy Cup Guys, Millie and Hughie Bishop were excellent hosts and generous fundraising representatives with their assistants, Brendan and Julie Bishop, donating funds from the sale of their famous Icy Cups, tea/coffee and BBQ to the Indigenous Literacy Foundation, who are a national book industry charity, which aims to reduce the disadvantage experienced by children in remote Indigenous communities across Australia, by lifting literacy levels and instilling a lifelong love of reading….well done guys….many thanks for getting up early and allowing runners to take over your house, garage and pool!
Mackay Road Runners remind runners this weekend's run is on SATURDAY morning – The 5/12km Casu Jacks pre Mothers' Day run commencing 6.30am from Casu Jacks Cafe, Mackay Marina.  Runners and supporters are welcome to stay post run for brekky and random draw prizes……all welcome, especially if you haven't bought your 'special' present for Sunday's most special day of the year!