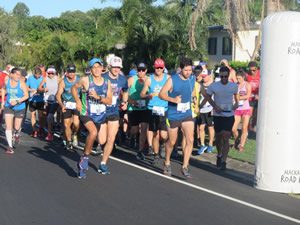 Mackay Road Runners held its annual 5km & 13km Kmart Loop from the Gordon White Library precincts from 5pm in still very warm and humid conditions. Over sixty runners took on the challenging races which included several Mt Pleasant undulations throughout both courses. President, Tim Magoffin welcomed the keen athletes before describing the technical course which included the long undulating Malcomson Street stretch towards the Gooseponds and return for the 5km and a City loop for the 13k'ers, including the very testing High Street in the later stages.
Will Morgan was sensational in his 5km event, streeting the field in a superb time of eighteen minutes 52 seconds ahead of first female, classy, Rachel Silvestri (21:02). These times were particularly impressive due to the toughness of the course and heading directly into the glaring sun in the back half of the race. Second female, Ainslie Heinke (22:42) and third overall had a top class 5km race followed by talented veteran runners, Bill Morgan (23:30) and Ross Connor (23:41). Carolyn Steginga (24:15) easily cruised over the Malcomson Street hill ahead of fast finishing Mark Pashalis, Andrew Short, Bernadine McKinnon and Jenny Smith in the top ten. Tam Wanstall veered slightly off course to enjoy both sides of Malcomson Street whilst Cilla Martland, Sandy Marchetti, Paul Tilse, Leanne Connor, Jess Harris, Arthur Dick and Paula Easton were closing in fast for the final placings.
In the 13km event, Carl Pinkstone and Julian Picot ran shoulder to shoulder throughout the entire course, with less than one second separating them as Carl crossed the finish line marginally ahead of Julian. Carl and Julian clocked 51:49 ahead of Champion triathlete, Ryan Palazzi, Wayne McMurtrie, Andy List, George Hannaford, Craig McGahey and Leon Ryan. First female and ninth overall, Alana Ford was in great form breaking the hour by two seconds, followed by Ricky Parker, Scott McIntosh, Stephen Oberg and Jared Spence. Second female, Carmel Mahon surged well on the hills crossing the finish line one second ahead of Matt Graves with third female, Jose Short a further two minutes in deficit. Comeback kid, Peter Ford (1:05:58) was well pleased with his race, clocking exactly six minutes behind his sister, Alana, followed by Greame Harris, Lindsey Wiggins, Teresa Hackney and Tim Caddy. Martin Lambert performed exceptionally well after his recent marathon cycling event around the Apple Isle, stopping the clock in one hour eight minutes, forty-one seconds ahead of Judy Zahn, Kylie Harbour, Anthony Blines and Lauren Dunne. Husband and wife team, Ross and Vicky Vickers had a spectacular uphill sprint finish with Ross being the eventual victor, which he will no doubt be regretting throughout the week! Birthday boy, Simon Henderson, had a great day out for an old boy (hee hee) crossing the line behind talented peers, Alan Zamparutti, Jo Skinner and Julie Whibley. Tim Magoffin's return to form was impressive as he placed well with other runners, Peter Ellison, Sarah Jensen, Shane Barben, Layla McGrory, Stuart Sprott, Carol Brown, Charlie Bone and Jan Smith.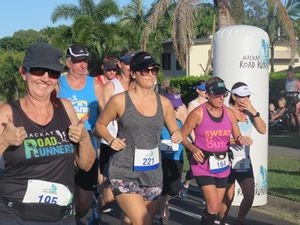 Many thanks to race day volunteers including Tim Magoffin, Andrew Short, Judy Zahn, Paul Tilse, Peter Wright and Lindsey Wiggins. Members are also reminded to wear timing chips and race numbers to every race so that the timekeepers can easily register runners and accurately record finish times. Social runs are not timed, however, it would benefit members to wear their numbers and timing chips to every event to ensure good habits. All runners are also to be very aware of their own hydration requirements whilst training and racing with the current ongoing humidity still a major risk.
This Sunday's Club 5km & 16km Pub to Pub Club Championship event commences 6am from the Magoffin residence, 16 Slade Point Road, Slade Point. Please note the course will still be the same as in previous years, however, the start has moved to just around the corner onto the Esplanade. Our generous hosts, the Magoffins will have the usual post-race brekky, where their famous sumptuous bacon and egg Magoffins will be available for a gold coin donation to the Leukaemia Foundation. This is the second Club Championship race on the 2018 program with vital handicap, open and age category points on offer.