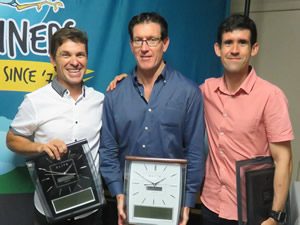 Mackay Road Runners celebrated in awesome style at their annual Presentation/Awards Evening last Saturday Night at the beautiful Breakwater Bar & Restaurant. The venue was amazing inside and out, making it a very special and memorable night for runners, their families and friends. Well over one hundred trophies and random draw prizes were on offer to the deserved recipients. The President's annual Report congratulated and thanked the many runners, sponsors, volunteers and supporters of the club where its existence would not be possible without them.
President, Tim Magoffin, once again was the congenial, comical and sincere host for the evening, starting off with the Junior Awards whereby several of the Club's younger set had a very successful year locally and intrastate. In fact, many of the juniors were not able to attend due to Capricornia Representation in Brisbane at the State Titles. Results to hand at time of printing from some of the athletes were commendable results from Benji Binney, Rachel Silvestri and Tahlia Campbell who made the finals but unlucky to not podium finish. Thirteen year old Benji scored a personal best time of four minutes 35 seconds in his pet event, the 1500 metres. Jamie Sanders was first in his age group in the very tough 3km steeplechase, with sister, Layla 6th in her steeplchase event. Jamie placed 6th in the 800m, Rachel Silvestri 7th in the 800 metres and made the final in the 800 and 1500 metres on Sunday, however, just falling short of a podium place. All the kids did extremely well despite other sporting and academic commitments on their playing card. The 2017 Mackay Road Runners Junior Club Champions Rachel Silvestri and Will Morgan were two such athletes who were absent, however, Will's sister, Lauren gladly accepted his and her own trophies in front of her Mum and Dad, and her Uncle who was from out of town. Hunter McGovern was the recipient of the annual Grove 10km Handicap Trophy which was an outstanding effort as he had to compete against every other club member, junior and senior, based on his handicap.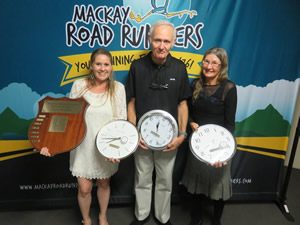 In addition to the presentation of coveted awards, Tim presented a very 'big' cheque of $20,000 raised earlier this year at the BMA Mackay Marina Run to the Publicity Officer, Barry Comben of the Mackay Branch of The Leukaemia Foundation who had to take it home in his 'big'car! The Leukaemia Foundation is the major beneficiary of the BMA Mackay Marina Run, with over one hundred and fifty thousand dollars being raised since the Event's conception. Barry's wife Chris who is Secretary of the Mackay Branch was unable to attend the presentation due to ill health, however, Barry was on hand to accept on behalf of their very worthy organisation. Barry was also of great assistance, presenting the awardees with the trophies in front of the Club's awesome new media banner and the sixty strong crowd.
The Overall Handicap points Champion was also announced by Timekeeper and Results Co-ordinator, Brendan Bishop, who was very thankful to his very supportive team of Tim Magoffin, Shawn Claydon and Lindsey Wiggins. Brendan counted down the top twenty handicap point's scores to the podium finishers – Carmel Mahon (1st), Stuart Sprott (2nd) and Judy Zahn (3rd). The trio proved very consistent throughout the year which was evident in their superb performances. The 2016 winner, Stuart Sprott was ecstatic to feature in the top three once again and with good friends, Judy and Carmel.
Carmel also took home second in the Open Female Club Championship behind the very talented Ashlee Scott. Ashlee had a great year, enjoying the challenge of stepping up to the longer distances where she featured prominently. Third placed female club champion, Alana Ford, actually scored the same points as second, however, was relegated to the bronze award via countback. All girls are extremely high end athletes as well an excellent support to each other and their peers.
The 2017 Male Club Championship was awarded to a very thrilled Mark McFadzen, who had a great year after persevering with many podium finishes to finally clinch the major title ahead of previous champion, Shawn Claydon and young up and coming, Carl Pinkstone. The three runners are long standing Members of the Club, although Carl was away at Uni for a few years, however, he was hastily back running with the Club upon his return to continue his winning ways.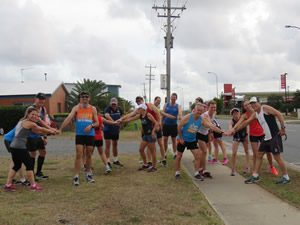 The Club also awarded eight monthly medals which go to the highest handicap points scored in a four week period of handicap races – Hunter McGovern, Finn Zamparutti, Jared Spence, Matt Graves, Leon Ryan, Judy Zahn (August and September) and Scott McIntosh.
The Benita Willis 10km Handicap winner was collected by the ecstatic Rebecca Woods who, for twelve months, is the caretaker of the impressive Benita Willis autographed Olympic framed shirt Perpetual Trophy as well as a smaller framed version for her to keep going forward.
Other highlights of the evening included the Encouragement awards – Sarah Jensen and Charlie Bone; Most Improved – Leon Ryan and the Col & Rhonda Meng Club Person of the Year for the third time – Andrew Short. There were also forty age category plaques presented to the top three male and female in ages ranging from under eighteen to over seventy……full list of results attached.
The Club continued its tradition of random draw prizes as the evening's finale, proving to be a very popular and spirited affair this year, as winners had to answer a very easy question before selecting their prize. Paul Tilse took home the excellent eSafe Fitness door prize valued at over $200 dollars with his better half, very lucky to win a night's accommodation at the Eungella Chalet cabins…..wonder who she'll take?
Club Captain, Jim Ford and his lovely assistant, Alana Ford, were on board again this year to host the weekly off season training sessions on Sunday afternoons – check out mackayroadrunners.com.au for the events program!